Dr. Mai Tang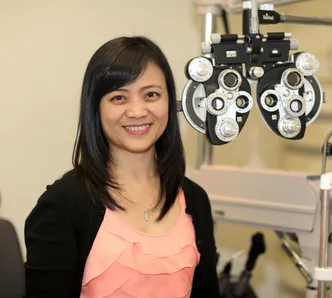 Dr. Tang is a therapeutic and glaucoma certified optometrist practicing in North Orange County. Her mission is to provide outstanding patient care and service to her community.
In 1991, she received her Bachelors of Sciences degree in Biology from the University of California, Irvine. Having enjoyed her studies in health sciences, she went on to earn her Doctorate degree in Optometry from the Southern California College of Optometry in 1995.
Through her internship, Dr. Tang gained experience in primary care, pediatrics, ocular disease treatment, vision therapy, contact lenses, and low vision care. Although she enjoys all areas of optometry, she is particularly passionate about specialty contact lenses, such as rigid gas permeable, orthokeratology, and myopia control.
After nearly a decade in the field working for optometrists in private and commercial settings and with ophthalmologists for Lasik patients, she found a place to call her own. In 2004, Dr. Tang opened her Fullerton office with the hope of providing excellent eye care and service at a great value. Encouraged by her positive experience there, she decided to take on the new challenge of opening a second office in Seal Beach, 2008.
Dr. Tang works hard to stay current on the latest advances in eye care, and regularly attends continuing education seminars. As a result, her practice features state-of-the-art-technologies, such as Optomap Ultra-wide Digital Retinal Imaging and Orthokeratology therapy.
She is a member of the Asian American Optometric Association and American Academy of Orthokeratology and Myopia Control. Her multicultural background enables her to speak Vietnamese and Cantonese.
Outside of the office, Dr. Tang enjoys spending time with her husband and three sons. While her favorite past time is camping with her family, she also enjoys cooking, baking, Bible study, and her high-intensity interval exercise routine.